In this installment one of Student Of the Business (S.O.B.), we will examine EdTech's recent rounds of consolidation of educational data systems used by schools worldwide and how these mergers will impact how schools process and manage data in the future.
Academic software companies have had blockbuster mergers, and the bigger fish has swallowed up, the smaller players for years. There is nothing new about mergers and takeovers in the EdTech world. However, what has changed is the consolidation of vast amounts of student data collected, stored, and manipulated by educational institutions, later held and processed by the software companies that own these tools.
When you examine one school or university and consider that these organizations transfer years of students' data to these software vendors, you can be forgiven if you don't see the urgency to sound the alarm about a company processing your students' records. And yet, when you consider that millions of student's personal information, from psychological examination data to a high school transcript, are held in the cloud storage platforms of these companies, you can see why Directors of Technology must follow these industry purchases and acquisitions.
We need to precisely understand how student data companies build big data farms on millions of the most vulnerable data subjects, kids! Let's examine one of the biggest of the big fish in the educational data marketplace: PowerSchool. In 2015 Vista Equity Partners, a private equity firm, agreed to pay $350 million in cash to Pearson Publishing Company, the third owner of PowerSchool, first developed in 1997 before being sold to Apple in 2001 and Pearson in 2006.
Since Vista Equity Partners privatized PowerSchool, they have gone on a spending spree, making blockbuster purchases of educational products. Those products are: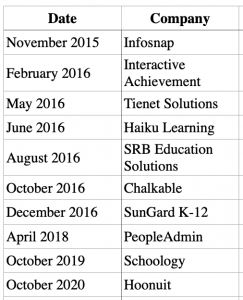 Each of these companies was, on their own, influential industry leaders, used by both K12 and Universities alike. Now that they are under a single umbrella company, PowerSchool controls student records from Pre-K through the university levels. Many of the products purchased by PowerSchool L.L.C. will be depreciated and later killed off.
Organizations have been looking to the industry for the next "big thing" in managing student data, expecting a move toward a Blockchain model of student records management. Others are demanding Business Intelligence (BI) tools to process their information to make better data-driven decisions for their students. Some dispute what exact changes will remain post-COVID, but few deny significant changes in the educational marketplace are on the horizon.
Source: https://www.listedtech.com/blog/evolution-of-the-higher-ed-sis-market-share-2000-2020
"An institution considering an SIS change that had been waiting to see how solutions evolved still may not be financially positioned to make a move even when the new offerings are available for review after the disruptions caused by COVID. Ultimately, we expect institutions will begin to move and market dynamics to change over the next five years, but the rate of change and percentage jumps in market share is likely to be less dramatic than in a pre-COVID world."
LISTedTECH's assumptions may well be correct. Schools that rely on these Big EdTech companies, consolidating market share under a single brand, most likely will not be in a position to switch data platforms when you consider the impact on productivity and the massive cost in licensing that comes with switching tools.
The Result:
Sensitive student data housed in fewer and fewer databases owned by even fewer software providers will limit choice and make it harder for organizations to use their information as they innovate without the blessing of these data firms. Knowing that this is a reality, every Director of Technology must pay close attention to this data space. Furthermore, they have to consider the impact on student privacy and how willing they are to lock their schools into letting Big Data process their students' sensitive data?